Three-dimensional transparent film Carton box packaging machine wrapping machine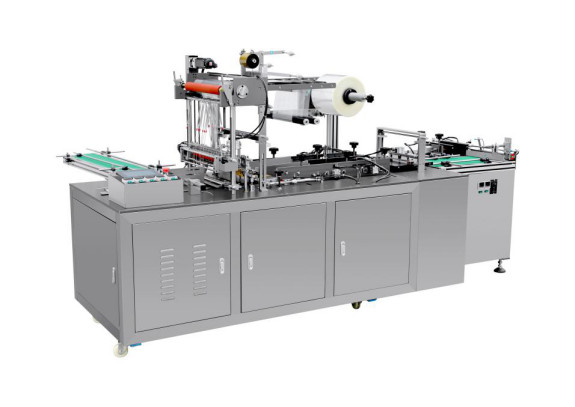 Introduction:
This machine is widely used for single or collective automatic packaging of various box-type items in the industries of medicine, health care products, food, tea boxes, cosmetics, stationery, audio and video products, etc. Such as the packaging of medicines, poker, cigarettes, boxed VCDs, magnetic tapes, boxed napkins, etc. This machine is controlled by imported PLC man-machine interface, all its actions are driven by cylinder, the lower film system is controlled by servo motor, the size of the lower film can be adjusted arbitrarily, and it has the characteristics of stable and reliable operation, firm sealing, flat and beautiful, and easy maintenance. The mini type of the machine does not occupy space and is convenient and quick to debug. The body platform and parts are made of stainless steel, which conforms to hygienic standards and has a beautiful appearance.
Features of Machine:
1. Imported brand-name products are used for important electrical appliances, Delta is used for programmable controller and man-machine interface, and Siemens is used for servo motor system. Small relays and solid state relays all use Chint. The AC contactor adopts Siemens.
2. Pneumatic components are from Taiwan AirTAC.
3. The film pulling mechanism adopts servo motor.
4. The surface in contact with the product is made of stainless steel.
5. Pneumatic mechanism is used for box pushing, film cutting, corner folding, long side sealing, end sealing and up and down shaping.
6. The equipment is easy to adjust and operate. The film cutting mechanism is integrated.
7. Packing speed: 30-60 packs/min.
8. The equipment adopts imported aluminum profiles.
9. In the protection part of the push box cassette, the push box mechanism is equipped with a cassette to automatically jump out and stop automatically, which can ensure the integrity of the packaging.
10, The automation control is more user-friendly, with current status display, current fault display, historical alarm viewing, and post-fault processing methods.
11. The electrical installation, wiring, and wiring are neat, and each line is marked according to the mark on the drawing, making it more convenient for users to find and maintain.
Specification:
Ensure that each plastic cover is flat without damage or warping.
The components of the machine, the main machine, the upper and lower ironing components, the conveyor belt, and the wire-pulling mechanism, and the packaging produced after assembly is in an L-line direction (see attached view or video).
This machine can realize the function of one point, one leveling and two groups. When the two-group method is realized, the former group of point ironing components can be ironed in the forming track, and it can also be completed by two groups of ironing.
Suitable for packaging materials 0.018mm-0.03mm BOPP double-sided heat-sealing film, outer diameter Ø320mm inner diameter Ø70mm
Technical Parameters:
Model

YTK-BFS400

Packing Speed

30-60 boxes/min (can be adjusted)

Packing Size

(L) 100-280mm (W) 40-200mm (H) 10-90mm

Machine Size

(L) 2180mm (W) 1000mm (H) 1600mm

Conveyor Table Size

(L) 1500mm (W) 230mm (H) 990mm

Equipment Weight

800kg

Power

4.6KW 3X220V+N+PE

Main air circuit working pressure

0.6-0.7Mpa

Remarks The machine equipment occupies an area of about 5.5 square meters