Product Description
The machine is suitable for automatic packaging of paste or liquid of foods, medicine and chemicals, such as pesticide, shampoo, body foam bath lotion, facial cream, ingredient oil, fruit sauce, tomato ketchup and honey etc. the sealing type is 3 sides seal, 4 sides seal and back seal, the buyers can design the bag as per thier own demands. always widely used in food/medicine/cosmetics liquid/sauce material, the bag size is desiged by yourself, machine itself has the function of self-diagnosing and error-pointing.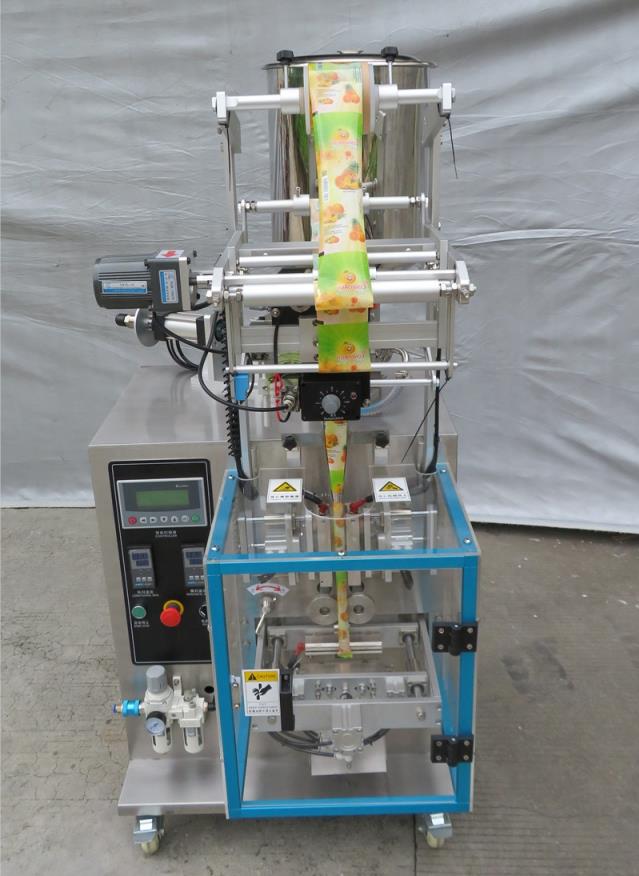 Specification

Features
● The automatic finish weight, bag-making/filling/sealing/cutting/lot number and so on functions, automatic optimization match with all the program, this system can alternate the length of bag, thus it is easy and precise.
● The machine has color system controller, so can get the complete trade mark design, the bag length is packing speed can be alternated by chain-gear stepless speed various without change spare parts.
● Unique in-laidembedded mouth sealing, enhanced hot sealing mechanism, intelligent temperature control by temperature controller, featuring fine heat balance, fine packaging performance, low noise, clear sealing texture and strong sealing performance.
● The machine parts of the machine and contacted material is food type stainless and other is common stainless, adopting liquid/paste pump to weight and measure, the seal type is 3/4 sides seal with easy tearing and back seal with sawtooth sealing.
● Controlling system is Mitsubishi PLC from Japan, machine itself has the function of self-diagosing and error- pointing, the process of bag-made can reach self-automatic inspecting/location/sealing and cutting when there are the signs of color locationg in packing films.

Detailed Images