Automatic Desktop 4 Heads Peristaltic Pump Filling Machine with Conveyor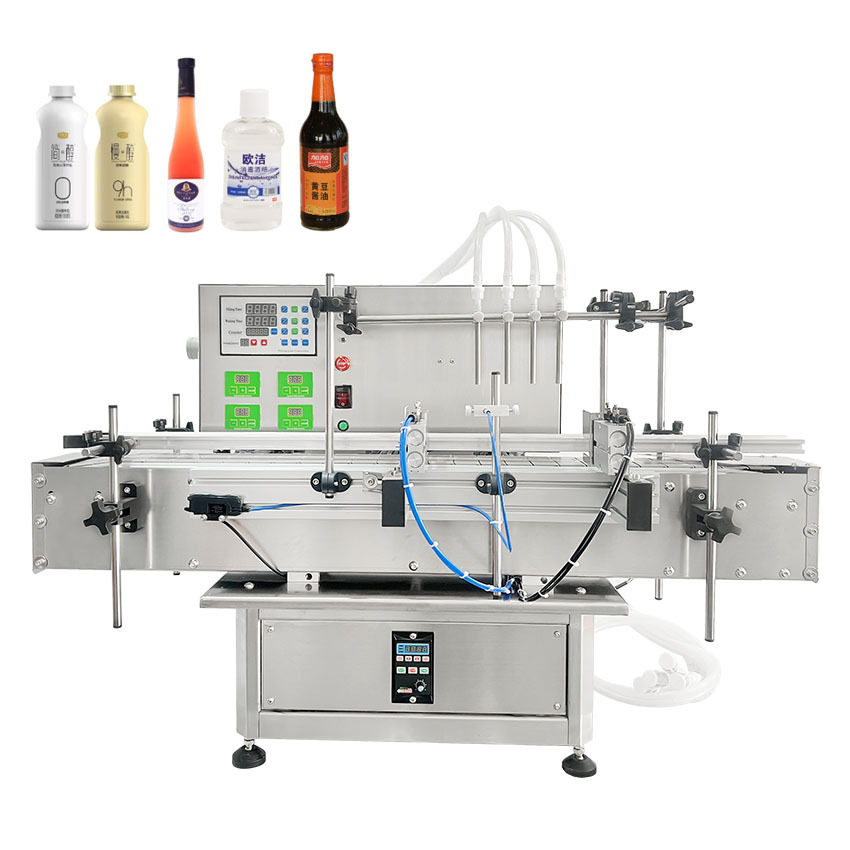 Product introduction:
The peristaltic pump filling machine is convenient and simple to change the tube, suitable for filling small doses of liquids with different flavors. Chain plate type conveyor belt, stable transportation, strong load-bearing capacity, lift-type filling head, can be used for filling liquid with foam.
Features:
1. Through the control panel, the filling speed and filling time of the machine can be set, which is easy to operate. The panel has an automatic counting function, and the number of bottles filled will be displayed on the panel, which is intuitive and accurate. 2. The high-power cylinder is used to control the filling head to lift. Lift-type filling heads are suitable for filling liquids with foam.
2. The electric eye is used to detect the bottle and control the machine for filling, intelligent control, no need for labor. The sensitivity of the electric eye can be adjusted as needed.
3. The chain plate type conveyor belt has stable transportation and high production efficiency. The speed of the conveyor belt can be adjusted according to the production demand, and the operation is convenient.
5. The machine is equipped with a peristaltic pump, and the liquid will not flow through the pump during the filling process to ensure its cleanliness and the service life of the pump. At the same time, it has the characteristics of convenient tube replacement.
Technical Parameters
| | |
| --- | --- |
| Model Number | YTK-PPF4H |
| Power | 220V/110V 50-60HZ 60W*4 |
| Working Air Com pressure | 0.3Mpa-0.4Mpa |
| Material of Machine | SS304 |
| Filling Flowing Capacity | 2.4L |
| Max. Sucking Length | 2M |
| Filling Range | 5-200ml |
| Size of Machine | L115*W77*H71cm |
| Weight | 85kg |
| Anti-Drop Function | Yes |
| Power-off Memory | Yes |